Since 2007, Gravit8 has been developing interactive digital solutions that drive engagement at live events. Combining the very best hardware with cutting-edge bespoke software, our solutions support brands with creating engaging, eye-catching talking points. We'll work with you to understand what you want to achieve, and what assets you have available, before submitting our ideas for development that'll make you stand out from the crowd. Even better, everything we do will be underpinned by our powerful analytics dashboard, supporting you to analyse behaviours and drive revenue in a meaningful way.
If you have an idea in mind, please ask, but in the meantime, here's a snapshot of some of what we offer:
TANGIBLE, TACTILE, INTUITIVE
Object Tables
Object tables are a tactile, interactive discussion starter using a touchscreen tabletop and a series of objects. Each object will be programmed to represent something about your business – a sector, a product, or a case study – and you can even attach your own models to the top of the object for added visual appeal.
Moving a puck onto the interactive screen acts as a trigger, bringing up content that is specifically dedicated to that item.
Brands have used these object tables to share product spec sheets, pricing, features lists, demonstration videos, influencer content and so much more, bringing your business to life, with or without a member of your sales team.
Get in touch to find out more
SYNCHRONISED, SEAMLESS, BESPOKE
iPad Walls
Giving you the impact of a giant screen, without the logistical challenges of installing one, we bring you the Gravit8 iPad walls.
We create gigantic cinema screen sized walls from hundreds of iPads, then bring them to life with amazing, cutting-edge digital software. They make a big visual impact and are great at drawing people onto the stand, boosting your exhibition engagement.
Our software means you can control the whole wall collectively to form a single seamless graphic and you can lift any iPad off the wall to become a sales aid in one-to-one interactions.
Get in touch to find out more
ENGAGING, INTERACTIVE, FLEXIBLE
Fusion Control
Imagine turning every screen on your exhibition stand or trade booth into a single, synchronised display, that offers a fully interactive, engaging, digital masterpiece, drawing crowds to your stand and putting them in control.
We start off by designing or utilising your existing stand AV infrastructure, turning it into a seamless display. Fusion control then brings the AV together, allowing you to control your content from a central device, deciding what is being displayed where, or triggering, sharing, flicking and throwing your content around the stand to offer a more dynamic and engaging experience for your delegates. You can even hand them the device and offer them the chance to do the same, letting your delegates lead the conversation: controlling all media in one place is an experience all of its own. Fusion control lets you:
control your entire booth AV from from any portable device
controls any displays: Synchronise all, or present on any!
1-1 or 1-many presentations, interactives, and gamification
synchronise all your devices for a WOW-factor 'takeover' sequence
Get in touch to find out more
INFORM, EDUCATE, PRESENT
Touch Apps
Touch apps / detail aids / product interactives / sales tool…. whatever you call it, we build it! Delegates can explore your materials (PDFs/Videos/Images) and send them to themselves using a simple form with it landing in their inbox instantly! Whether you need us to create the designs, or you already have your graphics ready to go, we will bring it all together for you.
Your bespoke sales tool

Enables intuitive, content driven conversations

Captures data for follow up
Get in touch to find out more
DATA, TRENDS, INSIGHTS
Surveys & Live Polls
Drive delegate engagement by encouraging them to participate in interactive, collaborative content. From quizzes to opinion polls, get input from your audience and allow delegates to see others' opinions, gather market intel or data to influence future decisions.
Provides valuable market data for you.

Compare peer opinions & feel connected to others at the event.

Can provide competition / gamification.
Get in touch to find out more
IMMERSE, CAPTIVATE, FASCINATE
Virtual Booths
If you ever worry that you're missing out on key clients by them not being able to attend an event and you're not getting the amount of exposure you deserve, then a virtual booth is the way to solve that! Reach more delegates than ever before by creating a virtual online booth for customers to explore. Delegates can explore a virtual space by clicking and dragging their mouse around the environment to view different areas and materials, giving them the experience that make them feels like they were there all along!
Live chats and video rooms provide interaction between visitors and staff, remote or onsite!

Virtual & physical share the same space and content.

Reach a wider audience.
Get in touch to find out more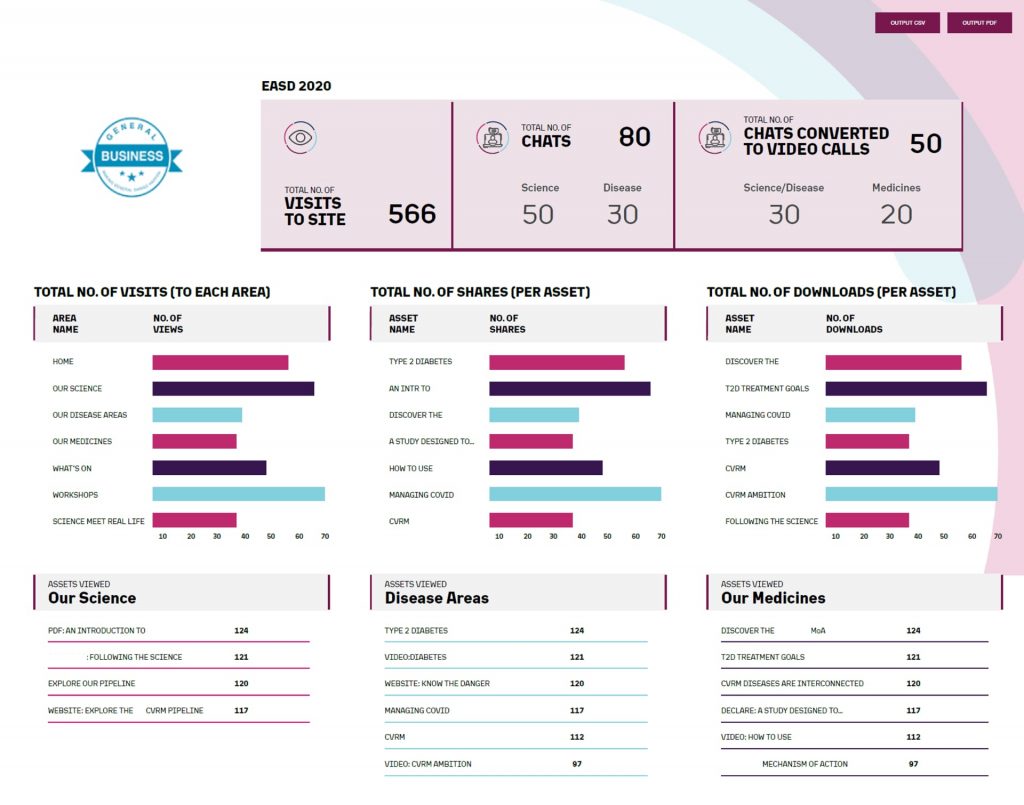 DATA, TRENDS, INSIGHTS
Data Collection & Analytics Dashboards
By implementing the Gravit8 Virtual Event Platform, you'll instantly gain a greater depth of understanding of your visitors and their behaviours than you would at a physical exhibition, such as:
A full data profile of your visitors.
How long visitors look at stalls and stands, and whether or not they return.
How long your visitors spend at the overall experience.
The visitor journey: from when they arrive to where they go and when they leave.
Which main stage shows they attend, if any, and whether they stay for the duration.
Whether or not visitors participated in any Q&As or live chats.
Which assets and content visitors downloaded and viewed.
Get in touch to find out more
Schedule an online meeting, call, or message us. Your perfect partner for:
Creating your wow factor
Driving your exhibition engagement
Developing your digital interactive software
Launching your virtual exhibition
and so much more. We're the software experts for live and virtual events…