MYCOM OSI

at MWC: Virtual Reality
AGENCY: SUMMER CREATIVE
END CLIENT: MYCOM OSI
Introduction:
MYCOM OSI offer award-winning Network Assurance and Experience Assurance solutions that enable Communications Service Providers (CSPs), Managed Service Providers (MSPs) and enterprises to launch and manage 5G and enterprise services with high performance, at scale. Their telco transformation solutions are based on 25+ years of experience and expertise gained at the world's largest, most diverse and most complex networks. 
Their vision is to help build autonomic networks underpinning the digitization of industries and the long term mission is to build the BRAIN (Business Reinforcement using Artificial Intelligence for Networks) for public and private mobile networks through collaborative work across the industry. 
Mobile World Congress (MWC) in Barcelona is one of the largest and most important trade shows in the telecommunications industry, with over 100,000 attendees and thousands of companies vying for attention. Standing out in such a crowded and competitive environment can be a challenge, but MYCOM, a leading provider of telecom network solutions, turned to Gravit8 to find an innovative way to cut through the noise and make a lasting impression on visitors.  
Their purpose was to showcase how MYCOM offer direct solutions to industry wide problems within the CSP industry in an experiential format.
MYCOM wanted to create an experience that would take users out of the busy exhibition halls and transport them to a fully immersive, branded virtual reality environment. By doing so, they could provide a deeper, more engaging experience for visitors to learn about their products and services in a way that would stick in their memories long after the event had ended. 
To achieve this, MYCOM partnered with Gravit8 to create custom VR environments that would showcase their case studies in detail, within the precise branded ecosystem that MYCOM envisioned. The VR experience allowed visitors to see and interact with MYCOM's solutions in a way that would not be possible on the trade show floor, providing a unique perspective that highlighted the company's strengths and value proposition. 
The result was an unforgettable VR experience that left visitors impressed and informed about MYCOM's offerings. The immersive environment provided an opportunity to showcase the company's technical expertise, innovative approach, and commitment to customer success. MYCOM was able to communicate their message in a way that resonated deeply with visitors, creating a lasting impression that could not be achieved through traditional marketing methods. 
By leveraging the power of VR, MYCOM was able to differentiate themselves from the competition and create a memorable experience that set them apart from the crowded trade show floor. The immersive environment provided a unique opportunity to showcase their solutions in detail, while the fully branded experience reinforced their brand identity and values.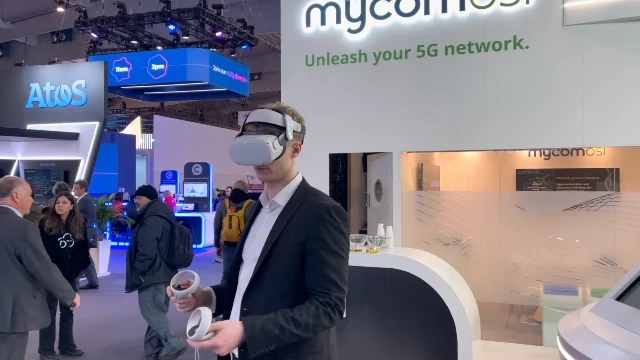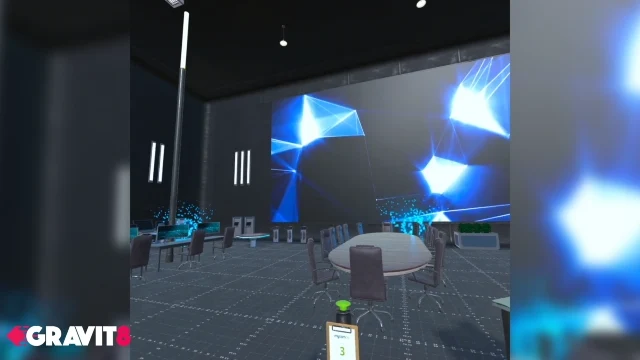 Overall, MYCOM's VR experience at MWC in Barcelona was a resounding success, and a testament to the power of innovative marketing and technology. 
"For MWC Barcelona 2023, MYCOM OSI worked with Gravit8 to produce two interactive NOC/SOC VR environments – showcasing two of our case studies on Experience Assurance/Automation and AIOps based capacity/Coverage improvements, in a creative and engaging manner. Having these case studies available on VR headsets at our stand was a great addition to our attendance at MWC Barcelona 2023. We're very grateful for all the hard work that the friendly team at Gravit8 undertook to ensure we had everything up and running as the event took place."
Jack Toye- MYCOM OSI