The best virtual exhibition software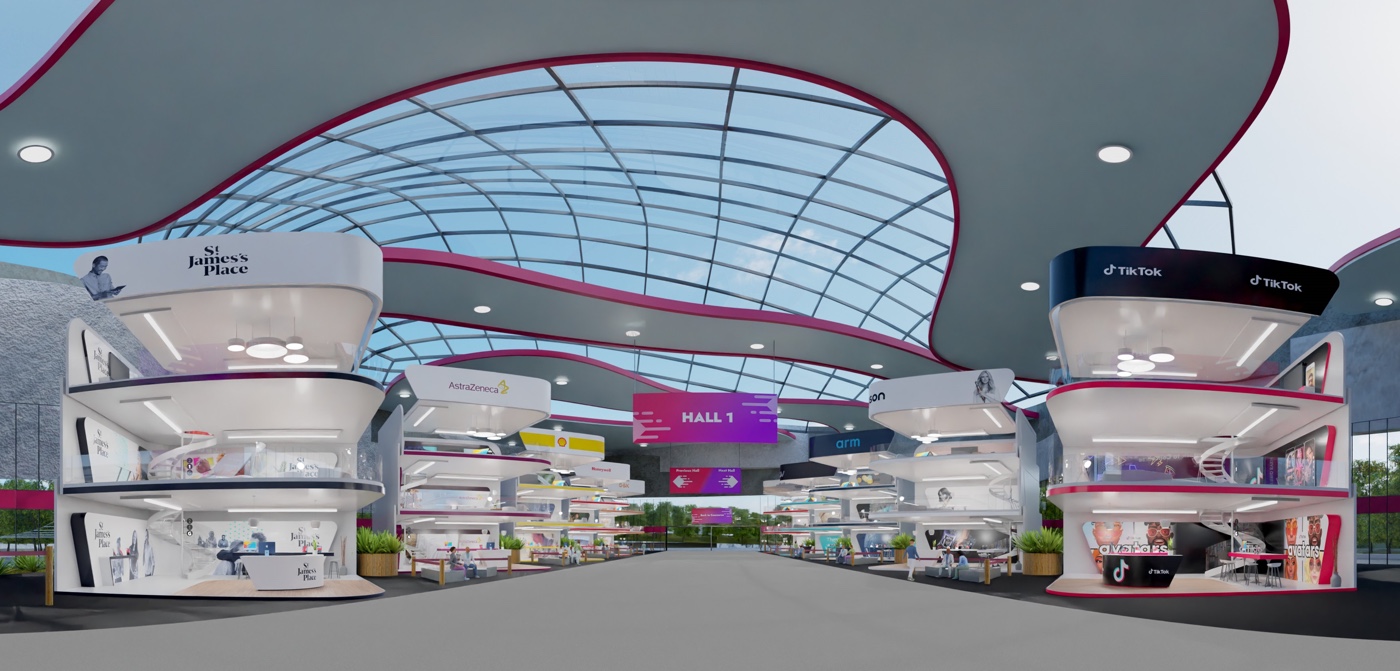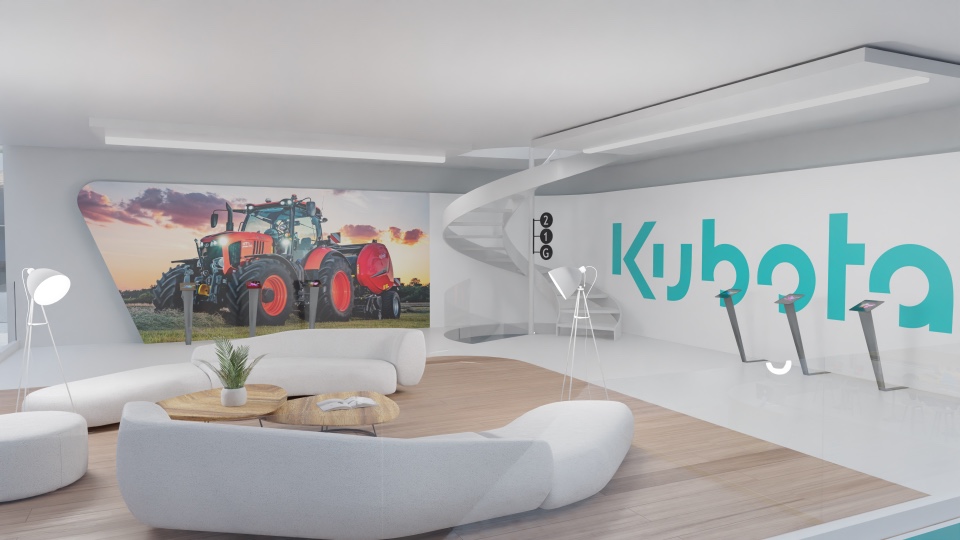 BRING YOUR BRAND TO LIFE
Bring your brand to life with a virtual exhibition that connects delegates together and offers true human interaction, all accessible via a standard internet connection.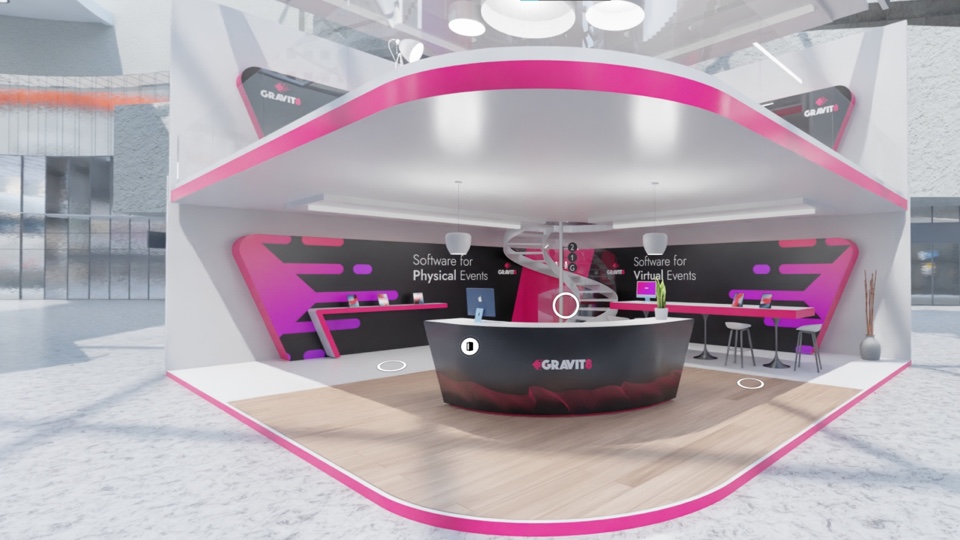 BUILD YOUR OWN EVENT
Using the Gravit8 online Virtual Event Platform, you can build your own event with our fully-configurable virtual environments, or we can bring your imagination to life with our bespoke event service.
OUR VIRTUAL EXHIBITION SERVICE SUPPORTS YOU TO:
Increase sales and lead generation.
Differentiate your brand with immersive and attractive graphics in a highly configurable environment.
Increase delegate knowledge of your brand through branded assets (video, images, presentations, 3D rendering, augmented reality, brochures and so much more).
Network with your industry, customers and peers using our true-to-life virtual networking system
Educate your audience with realistic 3D demo rooms, auditoriums, and theatres.
Interact directly with delegates around the world with 1-2-1 text and video chats.
Boost engagement and data metrics with social walls, polls, audience feedback and data capture.
Boost revenue and brand exposure with additional sponsorship and income opportunities.
Support your sustainability and ESG pledges by enabling audience expansion without increasing travel.
If you can dream it, we can create it. We can even imagine things you've probably never dreamed of. Whether it's to build a virtual world, re-create a seventh wonder, or just to show off your brand in an interesting and engaging way, we can build it. Just ask.
For one brand, we've recreated  the NASCAR circuit; for another it's been our cutting-edge virtual networking. We are probably the best virtual event company in the world, and we can create your perfect virtual solution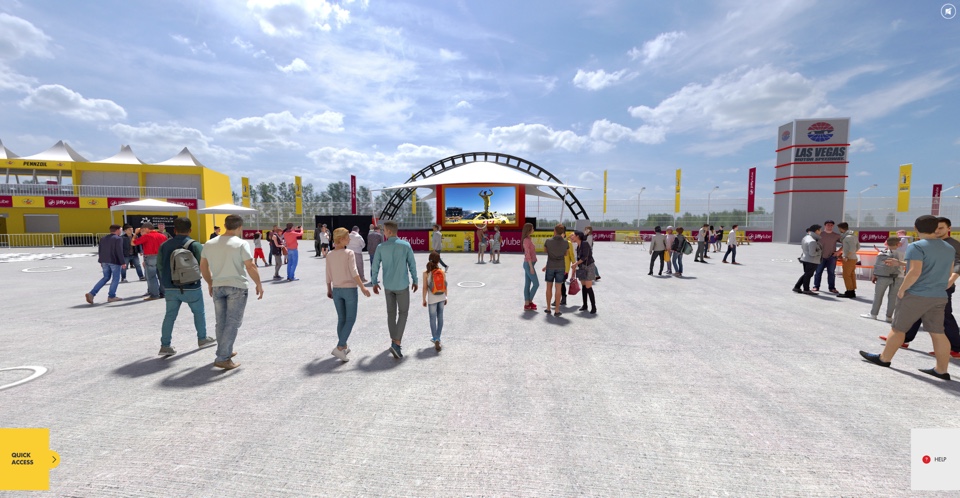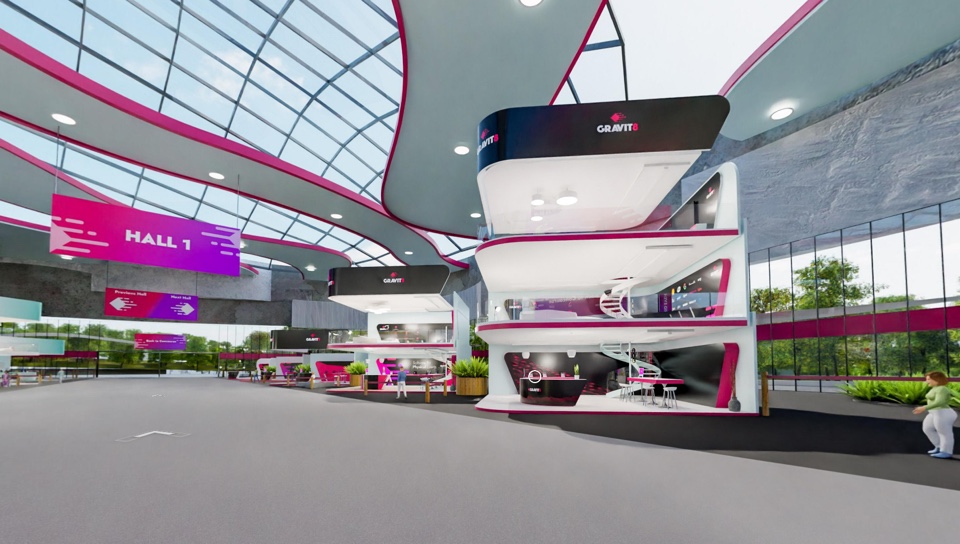 GRAVIT8 VIRTUAL EXHIBITION PLATFORM
Creating your own hybrid or virtual conference just got a whole lot easier, with Gravit8's 3D virtual exhibition software. Book a demo, sign-up and off you go, building your virtual networking experience from our pre-set virtual environments. We provide a DIY online virtual exhibition platform; you provide the brand and content to help make it shine. It's all rendered in 3D and if you want to, ready for the Metaverse reality too.
TRY OUR 3D VIRTUAL EXHIBITION SOFTWARE
EXAMPLE FEATURES OF THE GRAVIT8 3D VIRTUAL EXHIBITION SOFTWARE
Whatever your vision, our virtual event software can be used to create a fully-bespoke event with any feature you can imagine, or you can take advantage of our fully-customisable virtual exhibition features including:
Metric-focussed delegate journey, from registration to navigation, mapping every step of their way.
Trade booths that look and feel just like an in-person exhibitor space, but are fully-rendered in 3D. You can even monetise the platform with single- or multi-story booths for your exhibitors.
Immersive and attractive graphics throughout, designed to immerse your delegates fully in your brand.
Lobby and concourse including marketing banners, advertising, sponsor zones and so much more.
Auditoriums, theatres and demo spaces that can be configured to suit your timetable, including tiered seating.
Social walls and polling stations to build engagement around the event and capture metrics.
Fully-configurable networking including 1-2-1 and group events, with the ability to fully customise the networking, down to which delegates are in which group and what times they can join.
Live interaction features from a reception desk to wayfinding, product demos to educational events, the platform is designed to connect your delegates with your team.
Outdoor spaces: from arriving on the concourse to having outdoor chill-out zones, you can create the feeling of a real exhibition hall, rendered in a fully digital way.
Sophisticated scheduling for you and your delegates, including timed sponsorship displays.
Got another idea? Let us know and we'll figure out the rest!
GET IN TOUCH TO FIND OUT MORE
CAN VIRTUAL EXHIBITIONS DELIVER MORE VALUE THAN IN-PERSON EVENTS?
Absolutely! Even though the very first virtual exhibitions really took off during the COVID-19 pandemic when the world was in lockdown, many exhibition organisers and brands are taking advantage of the software to launch hybrid events, or stand-alone virtual events that expand their portfolio. The Gravit8 virtual exhibition software has supported brands to:
Delivering the best event and exhibition engagement software for:
Stunning software solutions for:
See what people are saying:
Going Above & Beyond
A Pleasure To Work With
Amazing Technology!!!!
Efficient & Organised
Thank You For Everything
Exactly What We Envisioned
Serious Competitive Advantage
Very Effective!!
Fresh & Engaging
So Pleased With The End Result
Great Addition to MWC
Schedule an online meeting, call, or message us.
Your perfect partner for:
Creating your wow factor
Driving your exhibition engagement
Developing your digital interactive software
Launching your virtual exhibition
and so much more. We're the software experts for live and virtual events…