THE ULTIMATE HYBRID EXPERIENCE: COMBINING IN-PERSON AND VIRTUAL EVENTS
Bringing together the very best in delegate engagement at in-person and virtual events, Gravit8 can transform your delegate experience, drive revenue and deliver exceptional metrics. Ask us how…
THE NEXT GENERATION OF EVENTS
The future of events is here, and it's all about delivering the ultimate delegate experience so that they can consume your content however, wherever, and whenever they like. According to research, 87% of delegates now expect event content (exhibitions, trade shows, congress, conferences and the like) to be readily available in a virtual format, even if they plan to attend in person. What's more, having a virtual offering is already boosting overall delegate numbers by as much as 500%, with 45% of event delegates only attending because an event is available virtually. Yet more traditional delegates still value face-to-face, with delegate studies highlighting that a virtual version of your event increases overall delegate numbers, without impacting the number of people that turn up in-person. That sounds ideal, doesn't it, particularly when adding a virtual format to your event can cost as little as 5% of the event total!
HYBRID EVENTS: THE GRAVIT8 WAY
At Gravit8, we are experts in the delegate experience, driving exhibition engagement with cutting-edge software solutions that entice and excite. We've spent more than 15 years perfecting this artform, and world renowned brands and agencies have used us to deliver outstanding results, every single time.
The COVID-19 pandemic accelerated our software development timeline, seeing us launch our Virtual Event Platform to replicate the in-person event experience in a true-to-life 3D format that is a market-leading experience for delegates. It gives brands and event organisers incredible data insights on their delegates and their behaviour and is transforming the value of events.
We're using the virtual platform to create incredible, seamless, hybrid experiences, combining the very best of your in-person events with the very best of the virtual world, absolutely maximising your experience and its value.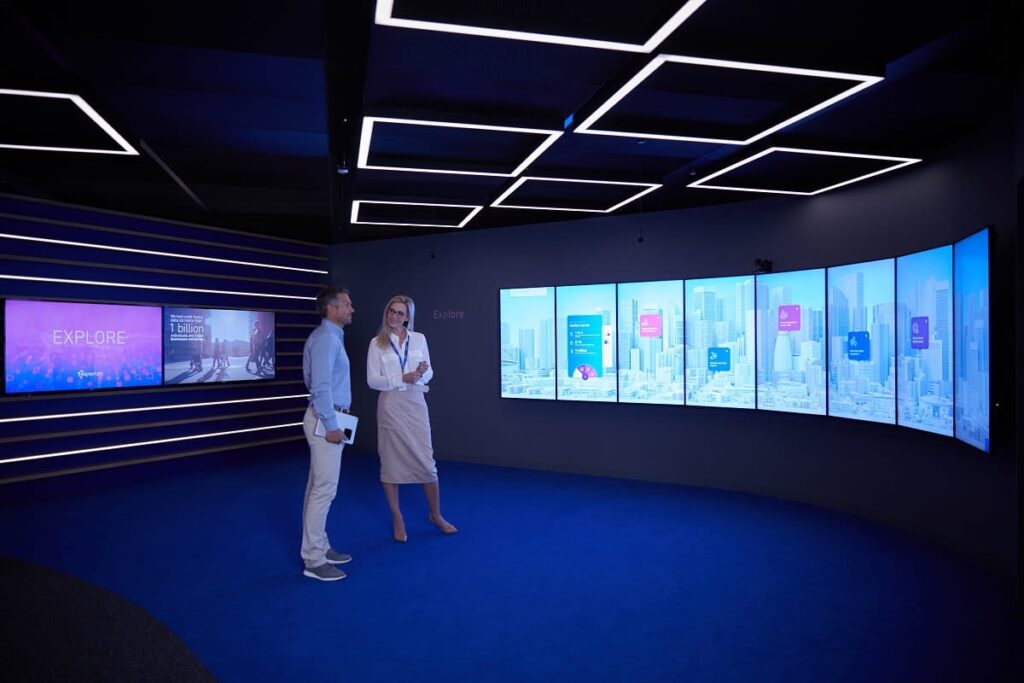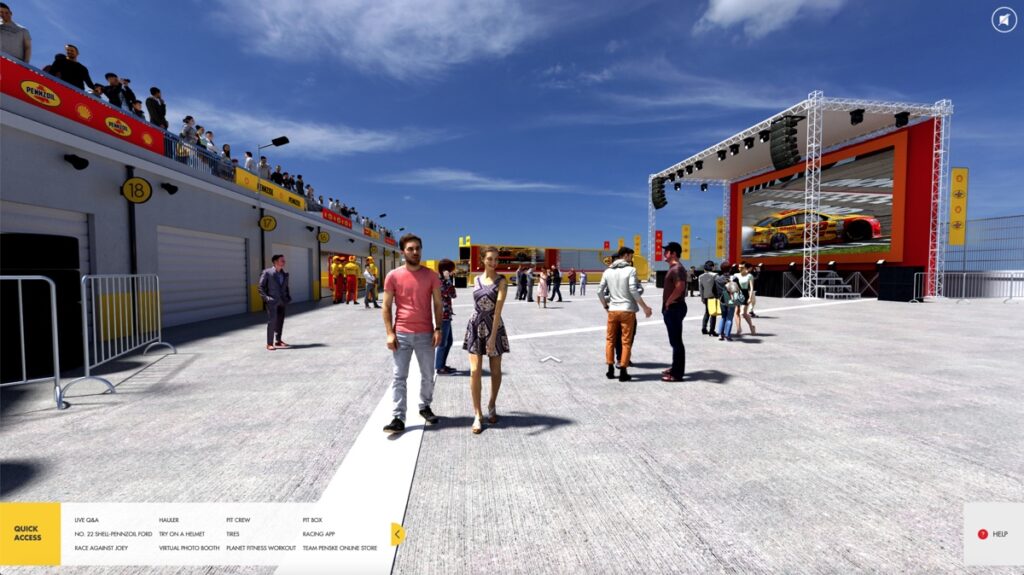 READY TO GO OR ONE-OF-A-KIND
For those that want to dip their toe in the virtual world, our ready-to-go Virtual Event Platform is fully configurable and comes with a library of virtual environments so that you can get started building your exclusive virtual event straight away. If you'd prefer something more bespoke, Gravit8 has a crack-shot team of experts just waiting to build your perfect event. Don't believe us? So far we've built a 3D virtual NASCAR circuit, the ultimate pharmaceutical conference and so much more. Just ask.
At Gravit8, our team thrives on innovation. It is what we do. Whether you have a clear idea of what you want delivered, or you have a vague notion of what you want to achieve, but you're not sure how to get there, just ask. We're outstanding experts who love generating ideas and delivering creative solutions that not only look incredible, but also deliver results. It's a win-win.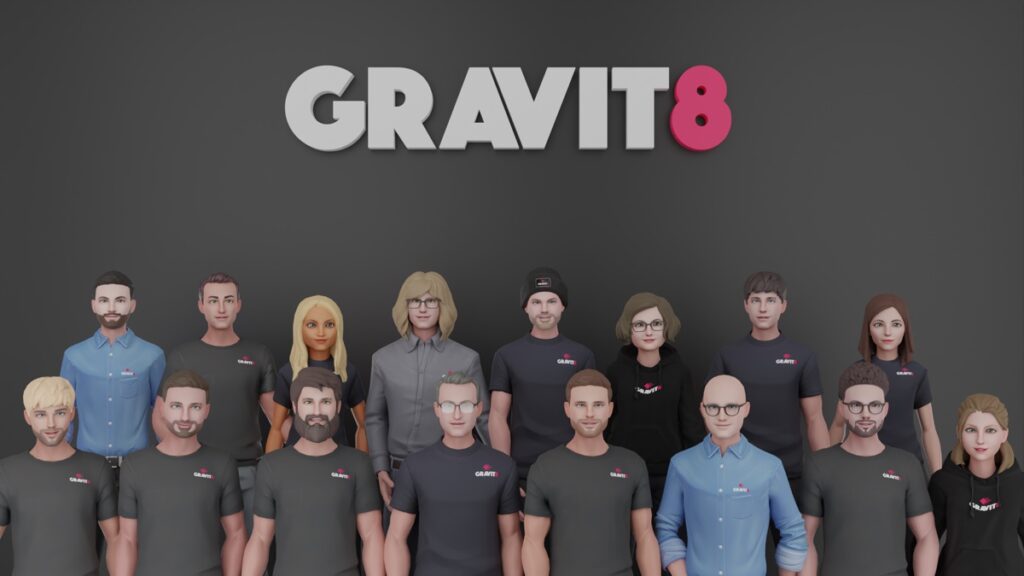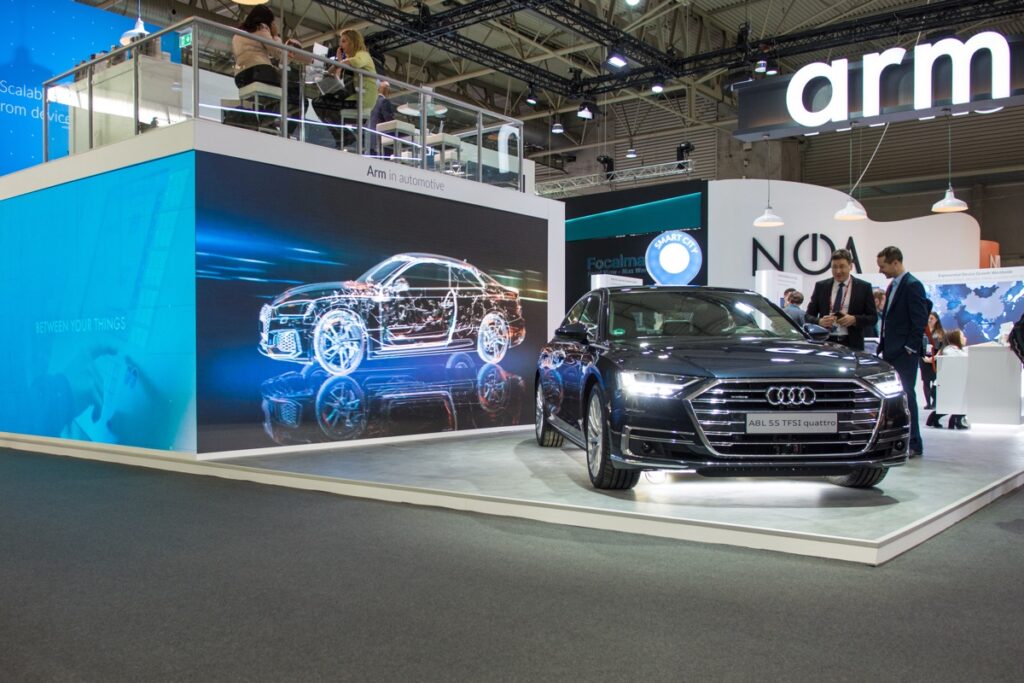 A SEAMLESS HYBRID EXPERIENCE
Starting with your in-person event, we'll support you with how you can drive maximum engagement from your delegates while they're onsite. From there we'll consider all the ways we can enhance their experience – like evergreen content passes for example – supporting you to maximise your revenue and delegate feedback. All of this activity will be underpinned by our delegate metrics, giving you never-before-seen insights into your delegates and their experience.
Next up, it's how to go virtual. For some brands, that means creating a perfect replica of your in-person event in the virtual world, but for most it means pushing the boundaries to wow audiences with never-before-experienced 3D worlds. The only limit is our combined imaginations, and together with our clients we've been pouring more and more innovation into our digital solutions, providing new revenue opportunities, new formats and new angles that excite. It's giving us exemplary delegate and brand feedback, and we absolutely love it!
With Gravit8 hybrid events, everything is delivered delegate-first, meaning they have the ultimate, fluid experience. Whether your delegate attends in-person, or in the virtual format, the two can blend seamlessly. People on the physical event booth can interact with remote audiences, while remote audiences can view live presentations from the booth, and the same salespeople can interact with both for your brands. Going hybrid means it's no longer about where the delegate is located, but about specifically meeting their needs and interests, and maintaining their attention.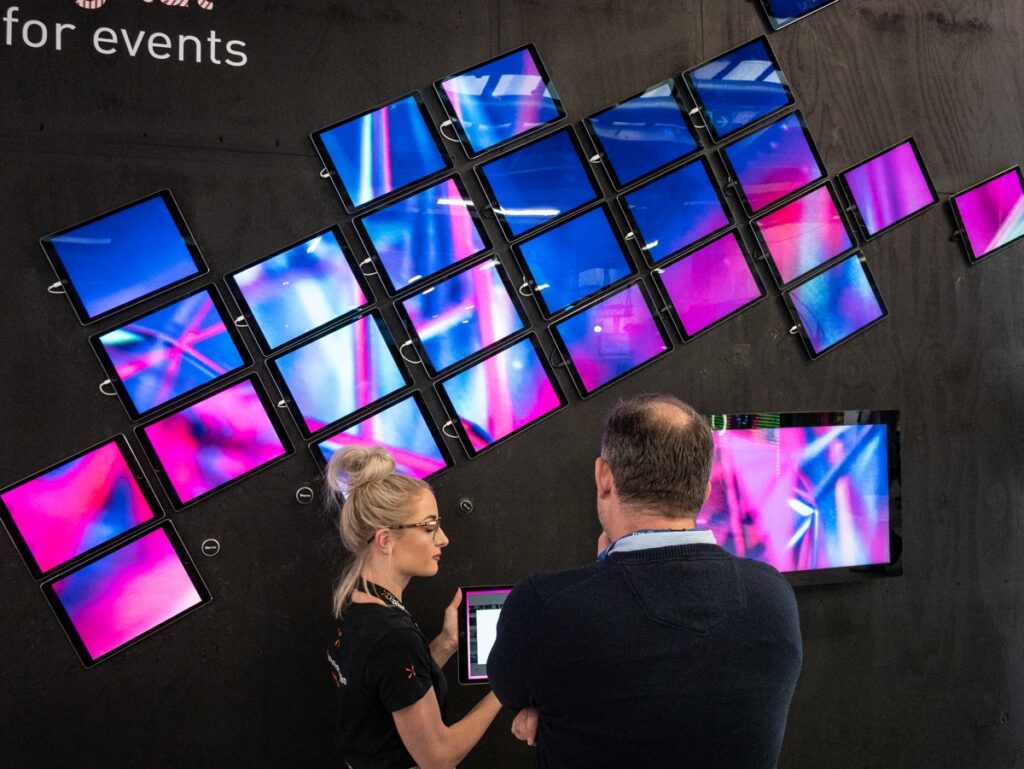 Delivering the best event and exhibition engagement software for:
Stunning software solutions for:
See what people are saying:
Going Above & Beyond
A Pleasure To Work With
Amazing Technology!!!!
Efficient & Organised
Thank You For Everything
Exactly What We Envisioned
Serious Competitive Advantage
Very Effective!!
Fresh & Engaging
So Pleased With The End Result
Great Addition to MWC
Schedule an online meeting, call, or message us.
Your perfect partner for:
Creating your wow factor
Driving your exhibition engagement
Developing your digital interactive software
Launching your virtual exhibition
and so much more. We're the software experts for live and virtual events…