Object Tables:
"Cast your brand as a leading-edge pioneer and engage users with a memorable digital experience"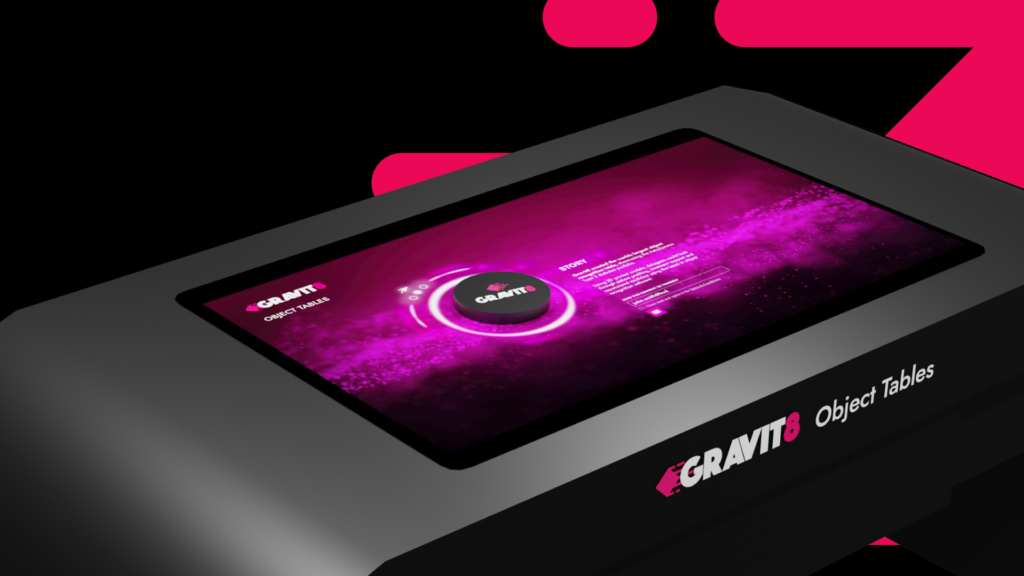 Object Tables are a tactile, interactive discussion starter using a touchscreen tabletop and a series of objects. Each object will be programmed to represent something about your business – a sector, a product, or a case study – and you can even attach your own models to the top of the object for added visual appeal.
Moving an object onto the interactive screen acts as a trigger, bringing up content that is specifically dedicated to that item.
Object Tables primarily use touchscreen technology to allow the user to navigate the app. This makes them familiar and easy/intuitive to use, including 'pinch & zoom' for viewing content, plus swipe/tap for choosing options.
As well as using traditional tapping to use the app, we have developed a feature allowing users to twist/rotate the object to cycle through a menu or content. This grants more real estate for more in-depth projects and, lets be honest, it is more fun to use!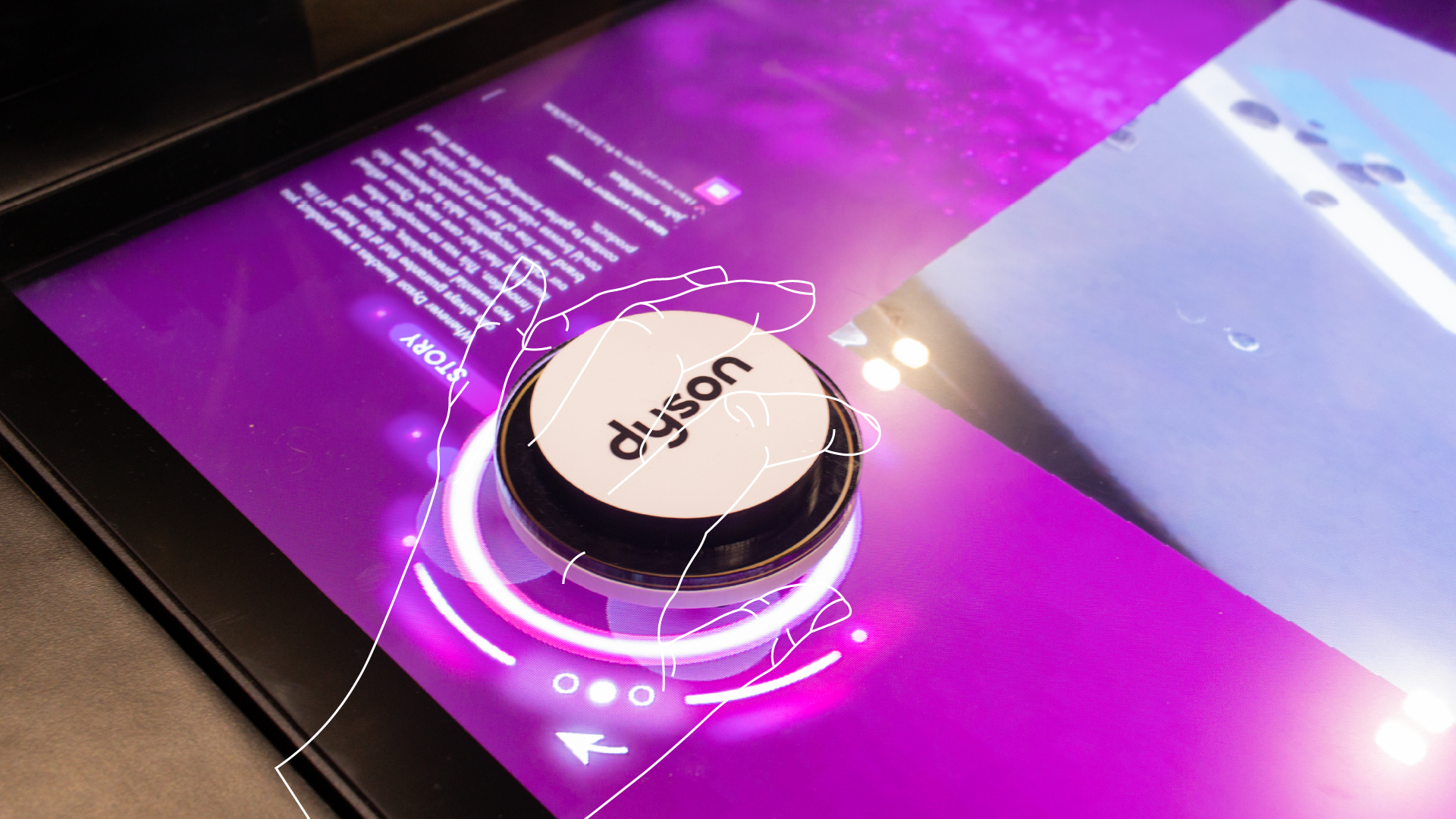 Brands have used these Object Tables to share product spec sheets, pricing, feature lists, demonstration videos, influencer content and so much more. Bringing your business to life, with or without a member of your sales team.
Adding data capture to your Object Table app lets users send themselves content and lets you- the brand- track who used the table and what they were interested in.
*all data capture forms are GDPR compliant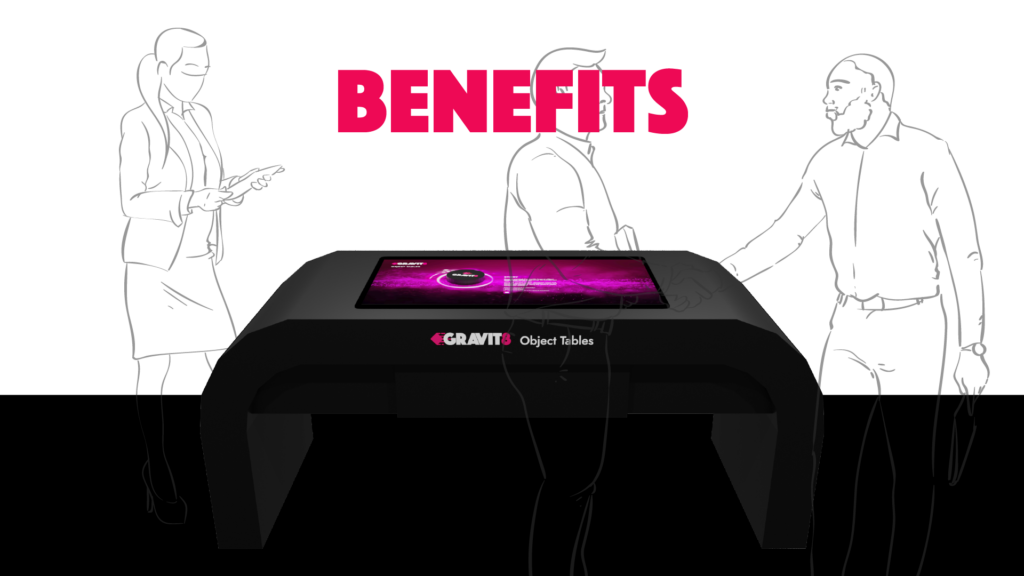 Benefits:
Easy & Intuitive experience
Great conversation starter
Attracts a greater footfall
Works offline & syncs when online
Spotlights your products and services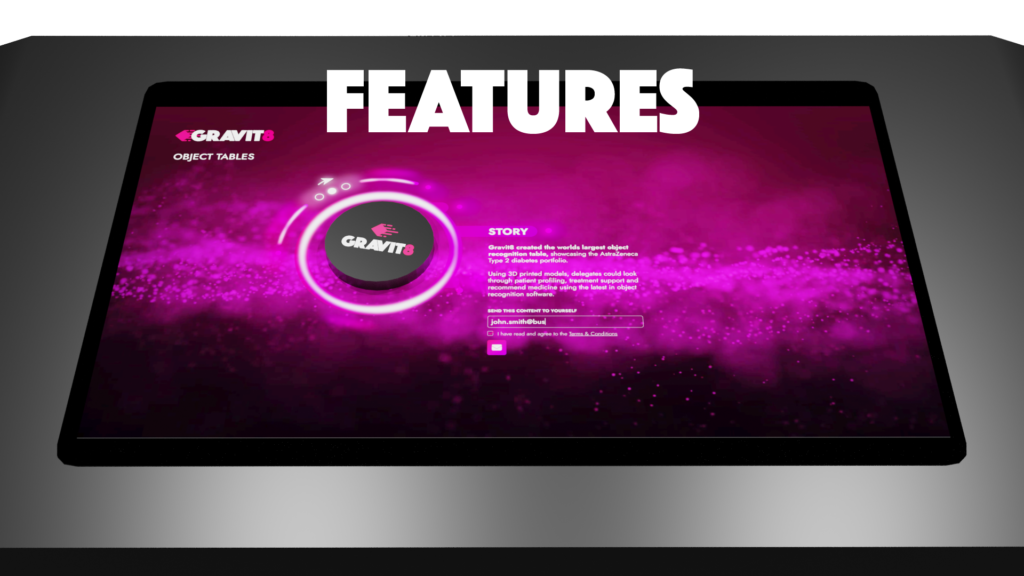 Features:
Twist style menu
Custom branded objects
4k screens in either 42" or 70"
Optional Emailing & data capture
Bespoke interface & functionality
How are top brands using the Gravit8 Object Table?
Our Object Table for Philips was the first to incorporate a twisting motion for navigation of the menu system. Users placed an object down, then rotated the puck to cycle through the top-tier menu. The twist of the puck proved to be an attractive and intuitive mechanism to navigate the app. The content was rich, with a multi-tiered menu full of informative video, imagery and text. We have been developing this rotation concept further since and are excited for future 'twisty' projects; with ideas ranging from volume, video and sound playback control to rotatable pucks which interact with each other or become game controllers, something for everyone!
Household brand Dyson utilised our Object Table to showcase their brand new hair care range. Placing the actual hair dryer attachment on the table allowed delegates to  get hands on with the product whilst discovering the features and benefits of each.
Delegates could watch attachment specific videos, read product docs and even email themselves information on the products they were interested in. This not only provided a paperless 'take home' for the delegate, but valuable data to the client post show.
Reputable brands such as AstraZeneca, GE, GSK and more have utilised the Gravit8 Object Tables in a variety of ways, from sharing product specifications and pricing information to showcasing demonstration videos and influencer content. With this powerful tool, you can bring your business to life in a way that will engage and educate your audience, whether or not you have a member of your sales team present.
You can watch more ways Object Tables have been used in our showcase here: vimeo.com/showcase/objectrecognition