Event Tech Live is the only event portfolio dedicated to event technology that showcases digital, in-person and hybrid events. You know by now that here at Gravit8, we create world leading software for virtual, hybrid and in-person events; Which is why ETL is the perfect fit for us.
This year marks the events 10th anniversary and our 6th year exhibiting at the event.
Our ETL stand has developed over the years starting out as DBpixelhouse to this year, exhibiting under our new brand name:
This year, we had a lot to talk about! New brand, new ideas. Not to mention our brand new, award winning Virtual Event Platform.
With almost two decades of experience creating software for use at in-person events by world leading brands; we know exactly what brands want to achieve when exhibiting at, or attending events.
If you didn't make it to the event, here's a run down of the interactives we showcased this year.
Let us take you through our stand!
Gravit8's Object Recognition Table:
OR tables are a tactile, interactive discussion starter using a touchscreen tabletop and a series of objects. Each object will be programmed to represent something about your business – a sector, a product, or a case study – and you can even attach your own models to the top of the object for added visual appeal.
Moving an object onto the interactive screen acts as a trigger, bringing up content that is specifically dedicated to that item.
Brands have used these object tables to share product spec sheets, pricing, features lists, demonstration videos, influencer content and so much more, bringing your business to life, with or without a member of your sales team.
Learn how our customers use OR here.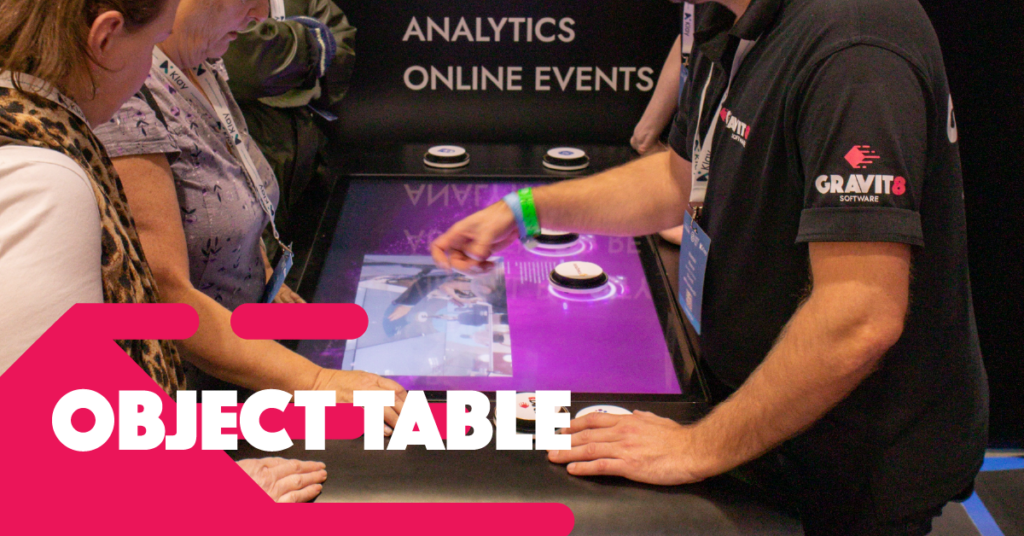 Gravit8's iPad Wall:
Our showstopping iPad wall is always popular at events. The perfect attraction piece to engage your audience. Not only does it make a huge visual impact and is great at drawing people onto the stand, our software means you can control the whole wall collectively to form a single seamless graphic and you can lift any iPad off the wall to become a sales aid in one-to-one interactions.
In short; the Gravit8 iPad wall attracts delegates onto your stand, and keeps them there to learn about you!
No two iPad walls are the same, we create dynamic sized and shaped walls from any number of iPads, then bring them to life with amazing, cutting-edge digital software.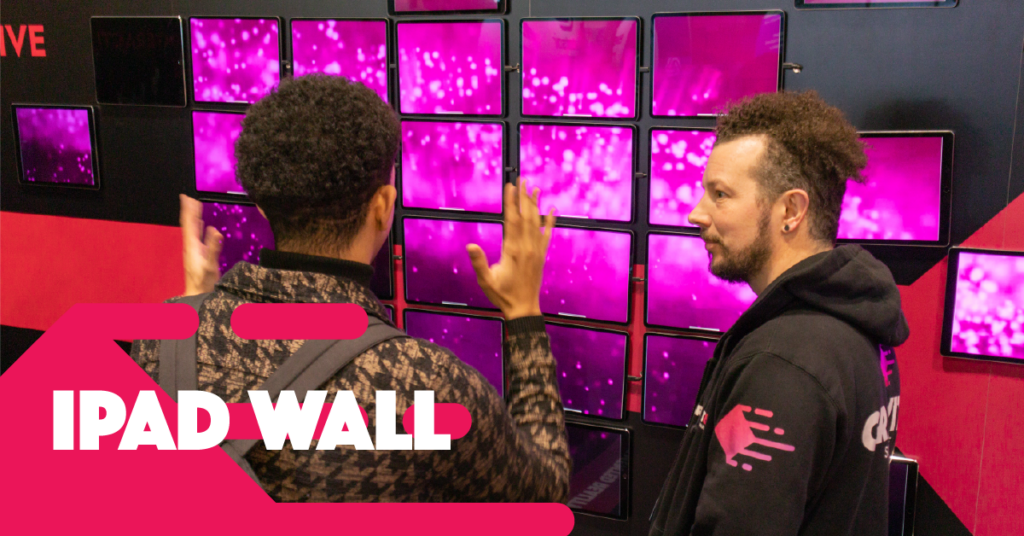 Learn how our clients use iPad walls to showcase their brand here.
Gravit8's Reaction Game:
Physical, digital or a combination of both. Gravit8 can create custom gamification for your event. This year we showcased a digital reaction game where delegates had 30 seconds to gain the highest score by throwing as many balls into the scored holes as possible. Depending which hole the ball landed in determined your score; some holes added 50 points to your total, and if you were really unlucky and landed in the minus hole, points would be deducted from your final score.
The game was big hit on the stand with delegates coming back to climb the leaderboard later in the show.
Learn how our customers use gamification at their events here.
Gravit8's Fusion Technology:
Imagine turning every screen on your exhibition stand or trade booth into a single, synchronised display, that offers a fully interactive, engaging, digital masterpiece, drawing crowds to your stand and putting them in control.
Fusion technology is fully scalable. Meaning you can take over one screen, or the whole stand.
Fusion control brings the AV together, allowing you to control your content from a central device, deciding what is being displayed where, or triggering, sharing, flicking and throwing your content around the stand to offer a more dynamic and engaging experience for your delegates. You can even hand them the device and offer them the chance to do the same, letting your delegates lead the conversation: controlling all media in one place is an experience all of its own.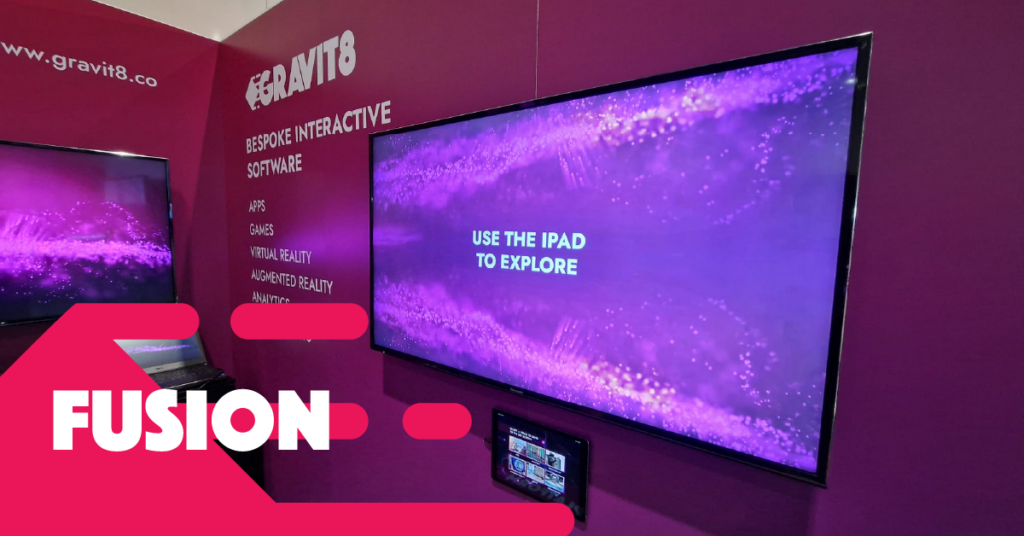 Learn more about Fusion here.
Our Award Winning Virtual Event Platform:
Our true-to-life, 3D rendered virtual world that brings together brands and buyers via a standard internet connection. Say goodbye to boring video conferencing and say hello to the next generation of online events.
As the first fully customisable virtual event environment available on the market, the VEP ultimately gives brands the opportunity to truly differentiate themselves in the digital space, and enhance their overall customer engagement. The customisable features include everything from brand identifying colour schemes to full custom environment creation, so whether you want to replicate a physical venue, or design your very own virtual rainforest, get in touch with us today to make your event YOUR event.
Our virtual event platform enables organisers to create events that precisely deliver the functionality, customisation and bespoke treatment that brands expect.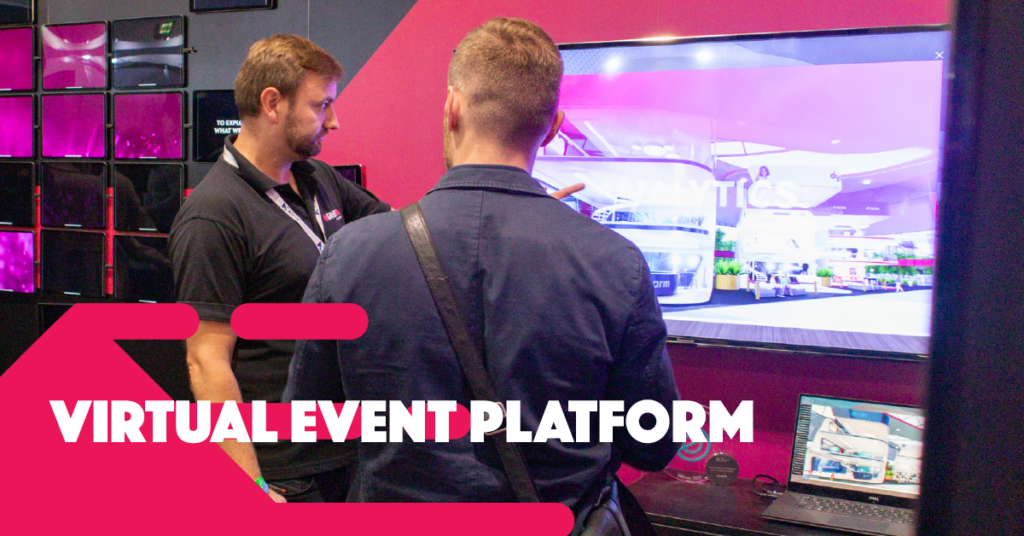 You can now take your own virtual tour of our brand new Virtual Event Platform here!
If you would like to book a meeting to discuss your requirements for any of the above interactives, you can do so here.
From all of the team, a big thank you to everyone that attended Event Tech Live London 2022! We look forward to seeing you next year.