Fully configurable VEP showcases 'game-changing' software solution
Gravit8 has launched its 'world first' DIY SAAS platform, providing the most comprehensive virtual event environment available on the market.
Based on our Virtual Event Platform (VEP), a true-to-life 3D virtual environment, a series of ready-to-use virtual tools including virtual exhibition halls, networking spaces, conference auditoriums and event spaces can now be accessed by organisers, brands, exhibitors, and delegates via a fully configurable DIY platform to use in a SAAS format.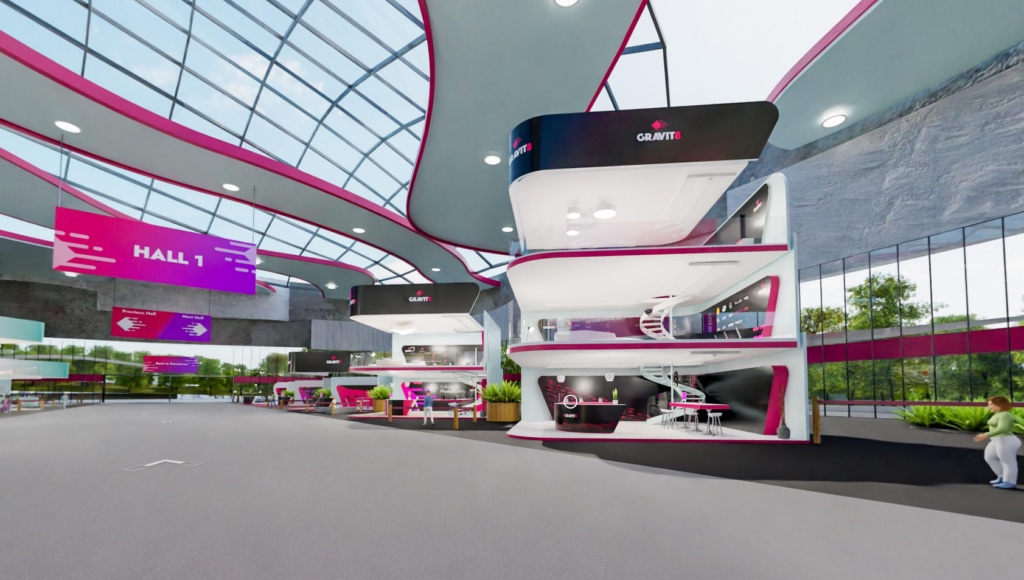 We have developed numerous bespoke virtual solutions for global brands such as Dixons Carphone Warehouse, Shell and ITV throughout the pandemic, and the new Gravit8 VEP fulfils and expands upon the continued need of engaging and connecting brands to delegates, without, or alongside in-person interaction.
Post-Covid, the VEP has found its niche as a virtual option for in-person events including exhibitions, trade shows, congresses, and networking events. Offering a breadth of features, including an integrated group or peer-to-peer virtual networking system and time-bound sponsorship branding throughout, it is a market-first for this level of complexity and graphical quality, providing brands with a direct opportunity to replicate their in-person events in a virtual way and to reach wider audiences.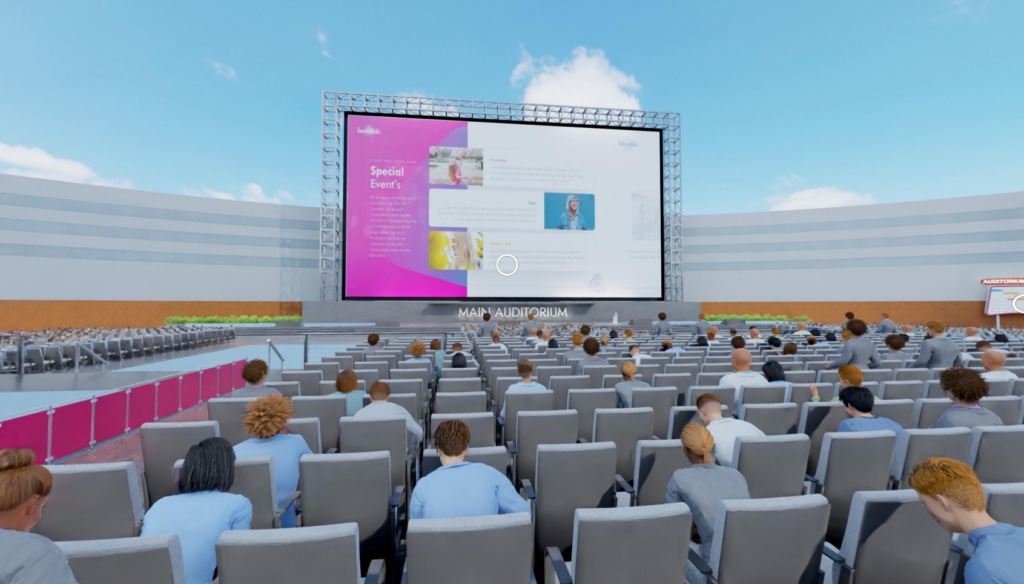 Several other key audiences will get to benefit from this game-changing innovation in software via the new platform: exhibition organisers who may be, for example, considering a virtual or hybrid exhibition space to connect their delegates and exhibitors or those wishing to hold a standalone virtual event or enhance in-person events with virtual, evergreen content. It will also be accessible for delegates online, simply by logging on to a live event in real-time.
Among the wide raft of functions and features available, the Gravit8 VEP offers full graphic customisation including organiser, sponsor, exhibitor, and delegate branding; media assets such as video, pdf and 3D; live peer-to-peer interactions, video demo areas, theatres and auditoriums; text and video meetings; social walls; interactive engagement features including polls and audience feedback; and end-to-end data metrics for all inputs and outputs.
In addition, it attempts to replicate and expand upon the in-person experience of being at an exhibition, including walking the halls, visiting the stands, chatting, networking, attending seminars; even "bumping into" and chatting with nearby industry peers just like IRL events.
Client brands cite benefits including increased overall sales, increased attendance, brand differentiation, easy monetisation, and more behavioural data, and for those brands that are ready to take the next step, it is even Metaverse ready for an enhanced delegate experience.
Due to its 20 years of experience in software for use at in-person events by world leading brands, Gravit8 has come to understand fully what brands want to achieve when exhibiting at, or attending events, as Alastair Reece, Managing Director of Gravit8 explained: "The Virtual Event Platform (VEP) from Gravit8 is a true example of innovation in the tech-sector, born from filling the void for events and exhibitions during an unprecedented international pandemic. It now compliments IRL or hybrid events, and expands well beyond in-person events in terms of productivity, reach and continued lifecycle. Our solution provided a much-needed alternative to plain, flat, dull video conferencing, and continues to grow in demand despite a return to in-person events – due to allowing exhibiting brands the freedom to really express themselves and their message. This in turn makes it viable for the organisers to really monetise virtual effectively for the first time, because the brands – and visitors – get an experience that is really worth investing in."
He continued: "Since March 2020, Gravit8 has delivered hundreds of virtual events for world-leading brands and organisers. Each online event, just like live, requires its own sense of identity, atmosphere and functionality, and our experience of providing over 400,000 attendees with virtual experiences has allowed us to design what we feel is the ultimate online event platform. Some of our clients' events saw a 500% increase in attendees compared with their in-person versions. One event offered by a pharmaceutical client was able to provide access to financially restricted medical professionals for the first time, meaning it was able to talk to medical staff about products and services in a way that it previously didn't have access to. Removing the travel requirement saw a 60% uplift in members visiting from South America at that particular event.
"As the first fully-fledged virtual event environment available on the market, the CMS driven SAAS platform ultimately gives brands the opportunity to truly differentiate themselves in the digital space, and enhance their overall customer engagement."
You can book some time with a member of the Gravit8 team and view a walkthrough of the platform here: https://www.gravit8.co/virtual-events/virtual-event-software/