Engaging delegates with your brand.
Footfall and engagement. These are the two metrics that will determine the return on investment from your exhibition, conference, and trade show schedule this year. So, what's the difference, and how do you get it right?
When it comes to maximising return on investment from an exhibition and conference schedule, it's ultimately about driving more footfall and engagement, and increasing your opportunity to sell. As exhibition engagement specialists for over 15 years, here's our top five strategies to maximise visitors to your exhibition stand: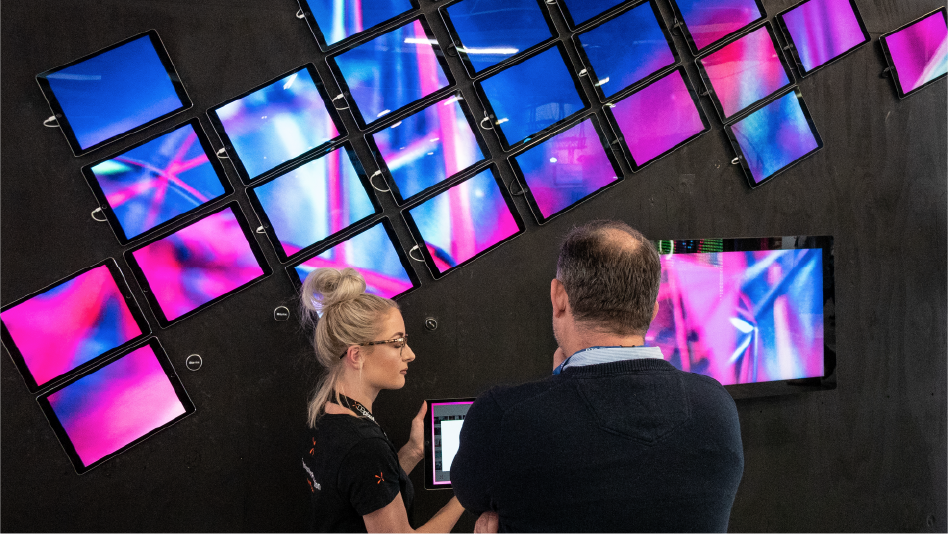 MAKE IT VISUAL
Exhibition halls are designed to funnel delegates between stands, but concourses can often get crowded, and delegates are bombarded with a lot of different messages. Making your brand visually eye-catching can create a beacon for delegates, driving their desire to stop with you.
Examples include:
Tablet Walls – bringing you the benefits of a huge AV screen, without the installation challenges, to create a flexible visual space in any shape or size.
Creative displays – if your budget is generous and you love a bit of creativity, then the latest creative displays come in unique shapes and sizes. Straight, curved, tall, short, or even a 360-degree experience, the options are almost limitless!
Combined with eye-catching graphics and sound, visual displays are an instant attractor to your stand. It's ultimately about creating an immediate focal point for your stand, setting you apart from your nearest neighbours and captivating the attention of nearby delegates.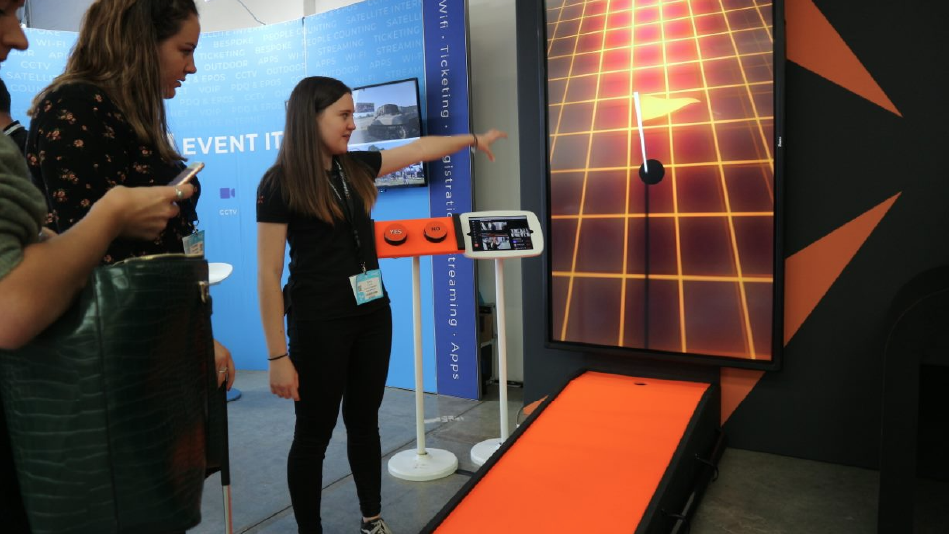 MAKE IT INTERACTIVE
There's nothing more frustrating than stopping on a stand, only to find all the personnel engaged with other delegates. Stand and watch for a while and you'll watch delegates drift onto and off the stand based entirely on whether they're immediately approached. That's where interactivity and gamification come in.
Consider adding:
Gamification – they take time, delegates love them, and while they're queueing for your game, your team can circulate. Try to be creative, connect it with your brand (if you can), and make it quick and easy to get involved.
Surveys & live polls – encourage your delegates to participate in interactive, collaborative content. From quizzes to opinion polls, you can get their input, and improve their dwell time.
To push your reach even further, you can utilise social media connections to create hashtag content and leader boards, designed to attract delegates from other parts of the exhibition hall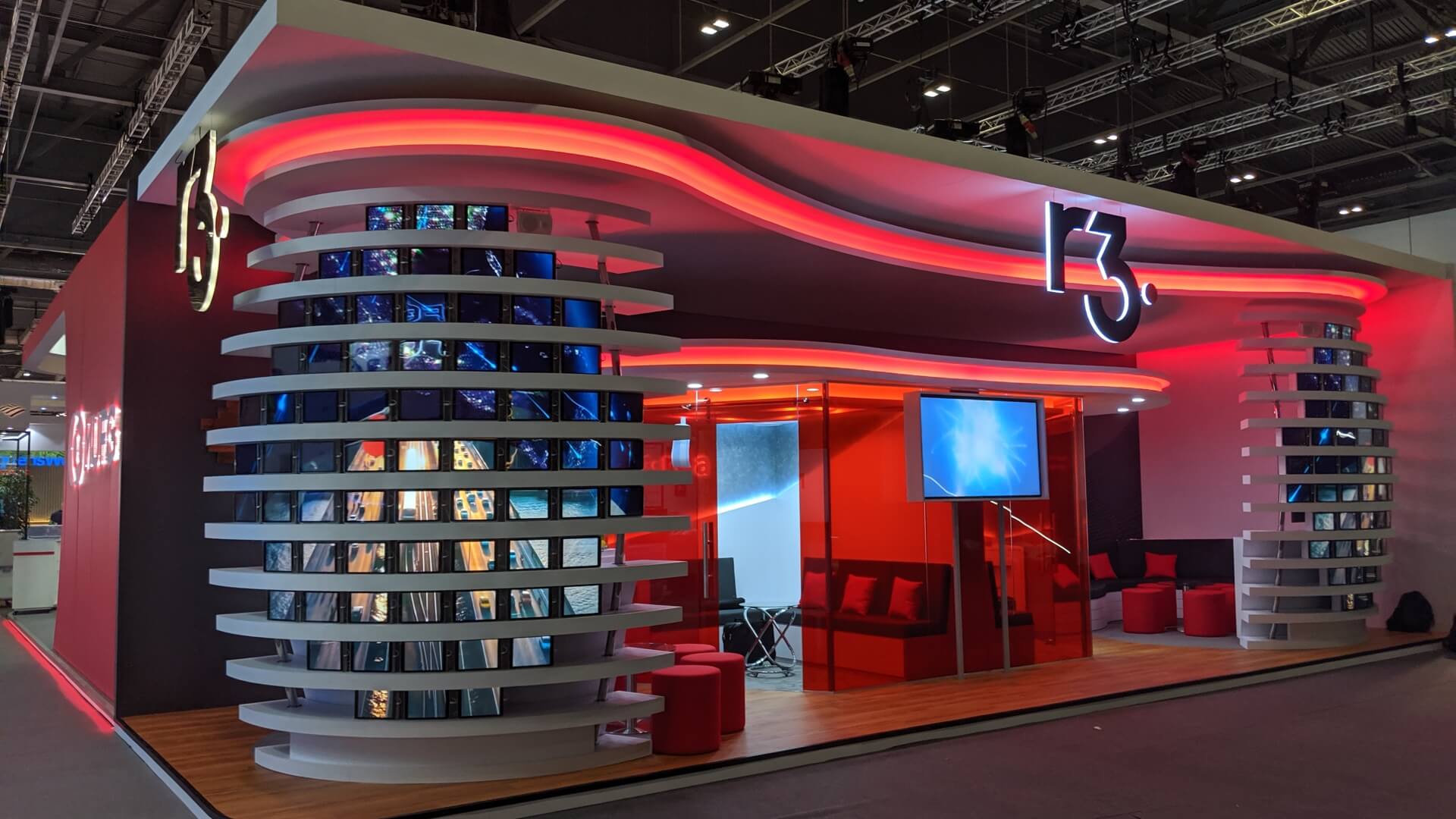 MAKE IT CUTTING EDGE
Nothing attracts more attention than something new, unusual or exciting; preferably all three. Integrated Augmented Reality (AR) and Virtual Reality (VR) can be a great way of doing this.
Examples include:
AR tablets that let you overlay digital brand content onto the environment of your stand. Create touchpoints and unique 3D content that can only be viewed onscreen
Fusion Control which lets you synchronise all the displays on your stand into a single, interactive platform, and then control it all from a tablet. Delegates can "throw" content from a tablet one every screen on the stand, or you can direct pre-set visuals that excite and amaze.
VR headsets that take your delegate to a 3D version of your stand, letting them pick-up and engage with stand pieces without needing one of your team. At particularly busy times, you can even connect them with office-based staff who can offer flexible support when it's needed.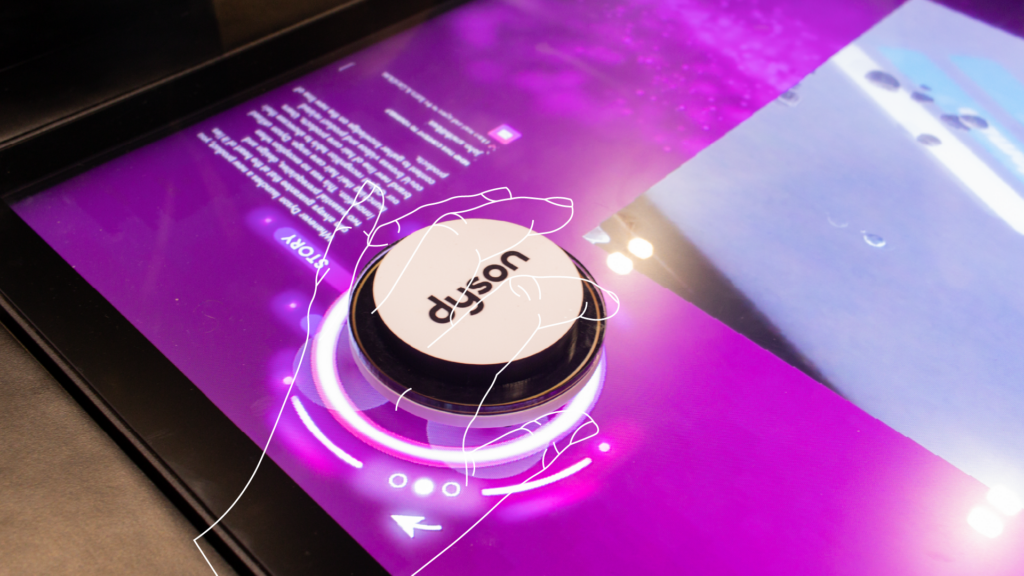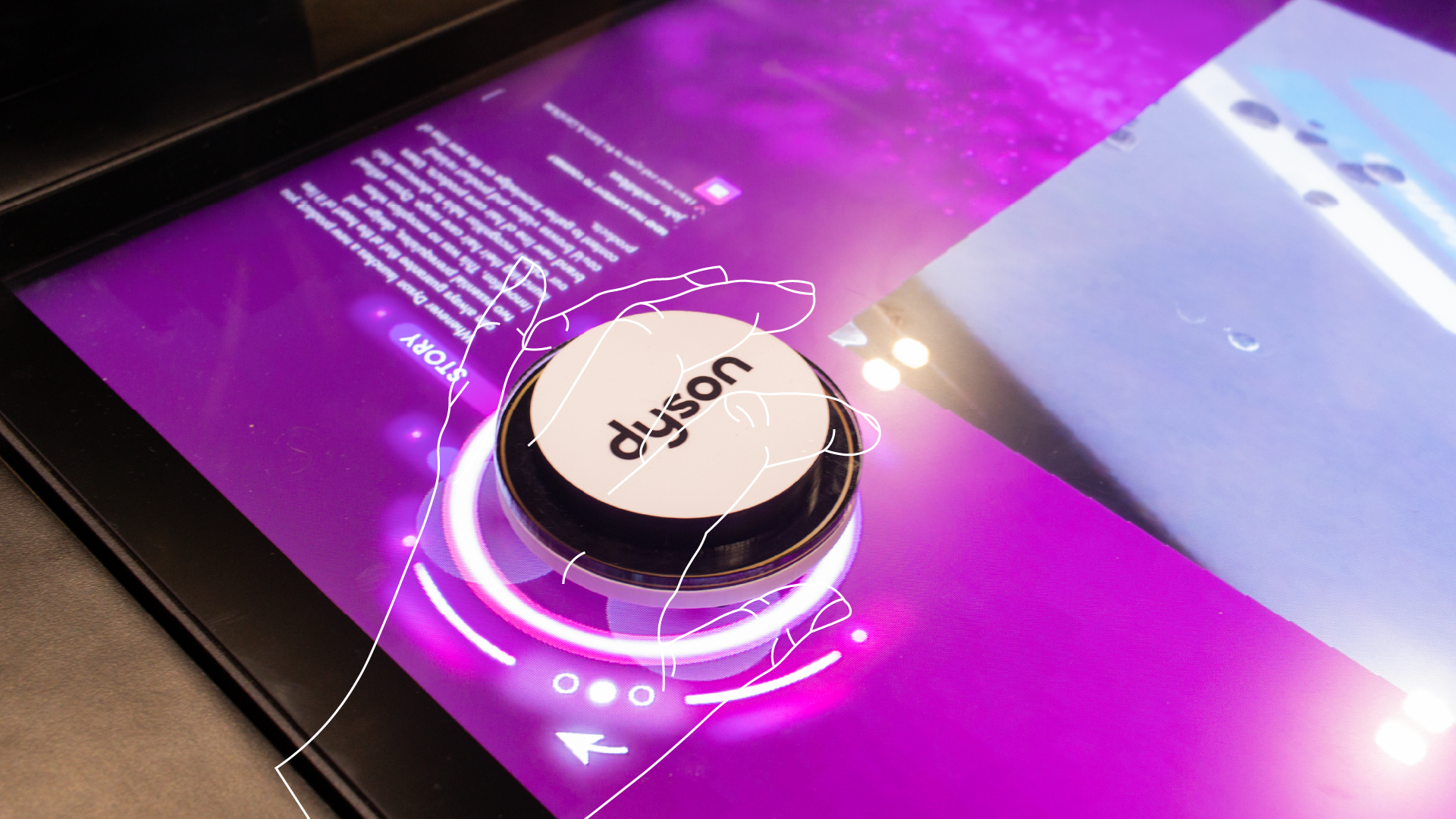 MAKE IT TACTILE
Transform your boring sales materials and endless reams of paper into something interactive, engaging, relevant and fun. Picking up parts, touching things, and generally engaging in a tactile way is an effective approach to boosting understanding, maintaining attention, and driving conversions.
We absolutely love Object Tables and Virtual Booths for this.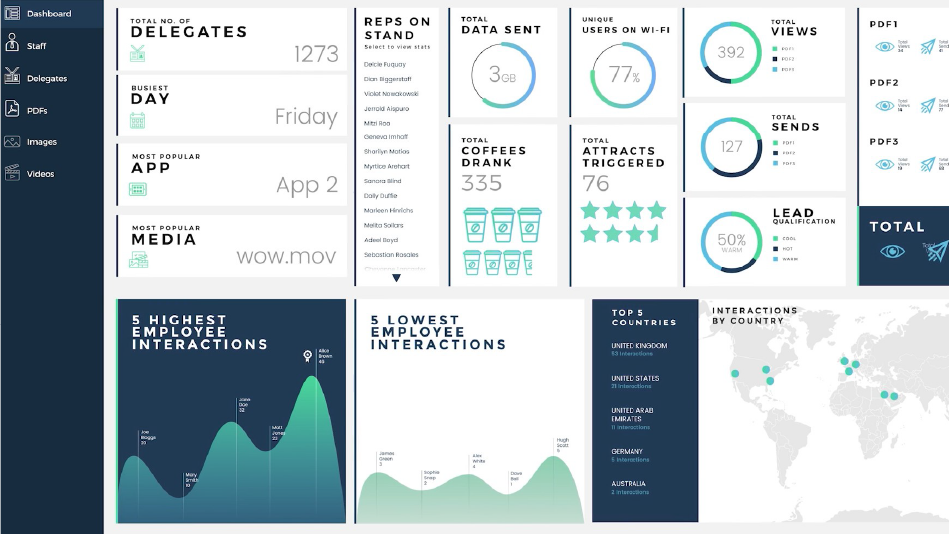 MAKE IT MATTER
Ultimately, none of this matters if you're not securing leads and sales for your business to drive the ROI. That's why whatever you do, needs to be backed up with data capture and analytics, supporting you to understand your delegates better, how long they spent with you, triggers for a sale or purchase, and of course data capture for future marketing. It's essential that all your efforts are connected back to the latest data metrics.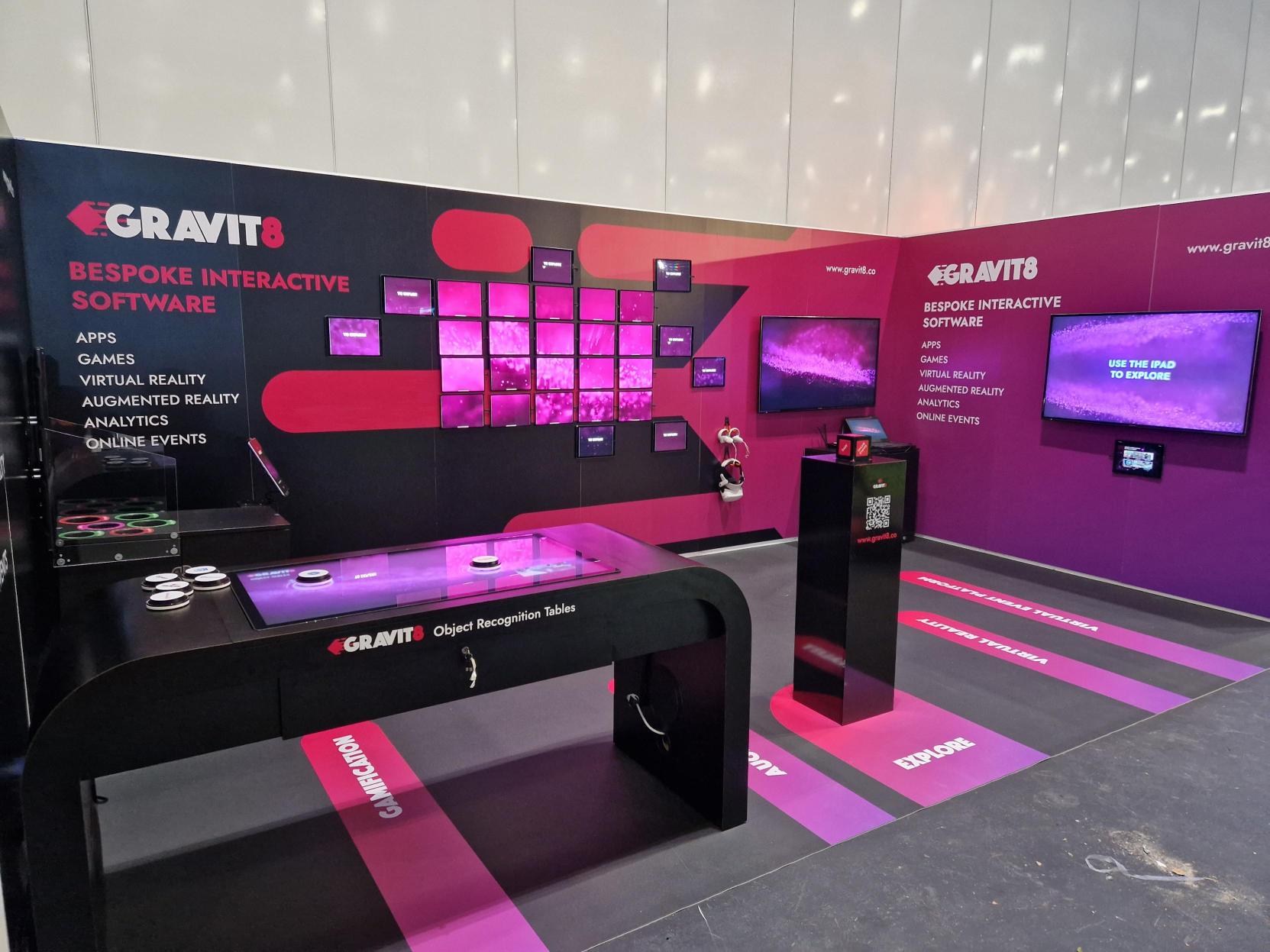 NOT SURE WHERE TO START?
Start with us! We're industry experts that have spent more than 15 years working with brands of all sizes to make their exhibitions matter. Our work can offer a significant uplift in your exhibition ROI. All you need to bring is an overview of your brand, your exhibition and your budget, and we'll work to bring you innovative ideas and never-before-seen interactives that take your brand to the next level.